Interactive Web Hosting Display
You will notice on the main home page of Domains at Retail that it looks different. We have improved the look and put our hosting plans in your face! You asked for the ability to quickly view our Hosting Prices and plan information and we responded.
On the Main Page you will now see the following view: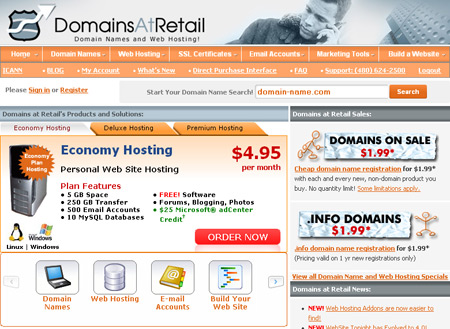 Click for larger View
Simply scroll through the tabs and find out all the info you need about our Shared Hosting Plans.
In addition, we have now introduced a scrolling carousel of our Must Have Products.
Take a look:

Scroll from left to right, and see the products highly recommended to use for your own web site. From Domain Names to Dedicated Servers, all the important products are listed in the Carousel.
Keep informed with the latest and greatest from Domains at Retail