The developers at Joomla have released the Joomla 1.5 RC2 Production version of their software. Much to the long wait by many users looking for an upgraded version of Joomla.

With the Upgrade, does Domains at Retail's Web Hosting support the new Joomla Install?
Yes, it does!
When Installing Joomla 1.5, Step 2 of the installation process is a "Pre-Installation Check" to ensure you have everything Joomla needs to run at 100% efficiency.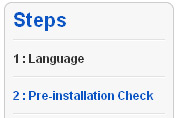 Let's see how the "Deluxe Hosting Plan" passes the check.
Pre-Installation Check for Joomla! 1.5 Production / Stable

Success! The Deluxe Plan indeed does pass the PreInstall Check
What about the "Recommended for PHP in order to ensure full compatibility with Joomla!?"
Recommended Settings Check

Success again!
Domains at Retail's Web Hosting plans pass the check and Joomla 1.5 RC2 Production / Stable version of the software is 100% compatible.