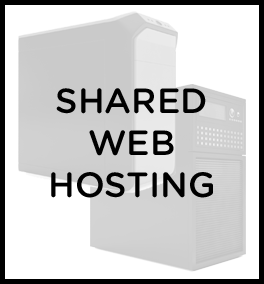 Cheap Shared Web Hosting (cPanel)
Buy Shared Web Hosting as a low cost option in providing reliable web site hosting. Your site is hosted on a server with many different sites allowing you to SAVE!
You only use the server for what you need! This gives you the disk space and bandwith you need and cost savings you want!

Remember: Protect your online investment. Purchase web hosting that is reliable and will keep you up and running without downtime!
All Shared Web Hosting 10% Off
on 12 Month Plans.
Use Coupon Code
5NC25
to save 5% on orders $25 and over
Lowcost cPanel Web Hosting Service Plans
Economy Plan
One Website
100 GB Space
Unlimited Bandwidth
100 Email Accounts
10 MySQL Databases (1 GB eac.)
Deluxe Plan
Unlimited Web Sites
Unlimited Space & Bandwidth
500 Email Accounts
25 MySQL Databases (1 GB eac.)


Ultimate Plan
Unlimited Web Sites, Space & Bandwidth
1000 Email Accounts
Unlimited MySQL Databases (1 GB eac.)

FREE

Premium DNS & SSL Certificate with Fixed IP address
Popular Platforms installed on our Web Hosting
WordPress is a personal publishing platform with a focus on aesthetics, web standards, and usability. It supports multiple users, categories, comments, bookmarklets, RSS syndication, several APIs, and weblogs.com notification, among other features.
Magento is a leading eCommerce platform built on the flexibility to allow you to control everything that your store needs set up. Magento performance normally requires higher hosting like a VPS or Dedicated server, but for testing or small traffic can be done on Shared hosting.
Drupal is software that allows an individual or a community of users to easily publish, manage and organize a great variety of content on a website.
Joomla! is one of the most powerful Open Source Content Management Systems on the planet. It is used all over the world for everything from simple websites to complex corporate applications. Joomla! is easy to install, simple to manage, and reliable.
osCommerce is the leading Open Source online shop e-commerce solution. It offers shopping cart functionality that allows store owners to setup, run, and maintain their online stores.
vBulletin is a community software package that enables you to set up and manage online community forums, with the utmost customizations.
Why choose our Web Hosting?
Web Hosting Description
Hosted across multiple servers with proprietary Dynamic Traffic Management. Easy-to-manage and affordable. It's the next generation of Web Hosting.
Is my site hosted on a cluster of multiple servers with real-time load-balancing?
YES
When faced with large increases in traffic, will my site continue to load quickly at no additional cost?
YES, capacity scales at NO additional cost.
If my server crashes, will my site stay up with zero interruption?
Yes, our proprietary Dynamic Traffic Management keeps your site up and running.
Can I use this even though I'm not a rocket scientist?
Yes, it is designed for everyone.
Do I pay more if I use more bandwidth?
No, we won't punish you for your success.
Am I protected against URL spoofing?
Yes, Premium DNS protects your domain. (with Ultimate plan)
Do I get a free SSL certificate with fixed IP?
YES (with Ultimate plan)
Will my server be protected against DoS (Denial-of-Service) and other malicious attacks?
YES
What level of intrusion prevention is offered?
Two levels. Provides network AND server-level intrusion prevention.
Hosting Plans include:
World-class data centers
Best-of-Breed routers, firewalls and servers
Website statistics
FREE email addresses
Google® Webmaster Tools
Daily backup
24/7 support
NO hidden fees
FREE setup and software
One-click setup
FTP access
Hosting Tips:
24/7 Monitoring is in place
Tech Support is always available
Provided reliable DNS service
Guaranteed Uptime by the company
Server space meets your needs
Provides SSL (secure socket layer) certificates
Provide the option to purchase domain name and traffic analysis products
Provide all FTP info as needed
Available options for Shared Hosting, Dedicated / Virtual Dedicated Servers and Email Hosting
Server for your Internet domain hosting runs ASP or PHP scripts, as required by your web site
Option to purchase email domain hosting exists
Domains at Retail is proud to offer access to state-of-the-art data centers, providing fast, secure, reliable hosting to millions of users worldwide.
United States, European and Asia-Pacific data centers
99.9% uptime guarantee
Full network redundancy
Best-of-breed routers, firewalls and servers
Enterprise-class backup and restore technologies*
State-of-the-art security technology and 24/7 on-site security staff
World Class Data Centers:
Best-in-class networking
Multiple data centers located in the United States, Europe and Asia, giving your site visitors a better Web experience
DWDM Ethernet Backbone operating at 20 Gbps (United States only)
Connected to multiple diverse upstream providers
Full BGP peering with all providers
70,000+ square feet of actual computer space with room to grow
Fully redundant (2N) UPS power systems and (N+1) air conditioning systems
Advanced fire protection, suppression & detection systems
Multiple power paths and network connectivity have two diverse paths into our facility
Fully integrated Monitoring System for all critical building, server and network systems
State-of-the-art Security Technology and 24/7 on-site security staff
24/7 Network Operations Center & on-site data center staff
Environmentally Sensitive Features:
Variable frequency drives for large motors
Chilled water air handler units
Cooled water chillers that use eco-friendly refrigerant
EPA-approved diesel generators using low-sulfur fuel
Eco-friendly products for specialized data center cleaning
Systems and Network Infrastructure:
Best-of-breed equipment for routers, firewalls and servers keep you online
Full network redundancy
24/7 dedicated prevention systems ensure network perimeter remains secure
Automatic email scanning for virus detection and cleaning provides complete protection**
Backup Restoration:
Enterprise-class backup and restore technologies protecting your data*
Full and incremental backups*
Off-site retention*
Operating System and App Management:
Hardened operating system builds**
Host-based security**
Vigorous patch management**
In-depth 24/7 monitoring helps ensure that our systems are secure**
*Web hosting plans only – dedicated and virtual server plans require additional purchase
**Web hosting plans only