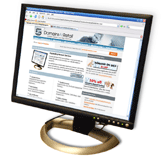 Press Releases
Domains at Retail offers the products to keep your web site innovative and ahead of the competition.
News media is a helpful way to spread the information about our products and updates to clients of Domains at Retail.
This Press Release page provides news reporters, and all media outlets a way to discover changes to our web site, so the general public may further be informed.
More information about our latest News Release and Announcements below.
Media Relations: Press Releases