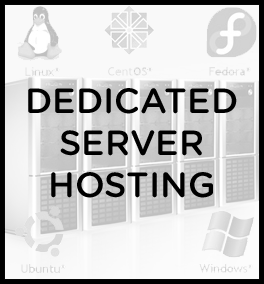 Cheap Dedicated Server Web Hosting
Unlike normal hosting plans, which put many customers' accounts on a single server, a dedicated server is reserved exclusively for the account and usage of a single customer. This means that the customer has exclusive rights to their bandwidth, memory, and storage space and performance is not affected by traffic and the usage patterns of other customers.
When you purchase a dedicated server, you are actually leasing a box that is configured and set up according to your preferences, but remains at our data center.
Remember: If you require Managed Dedicated Server Hosting, read more about our Managed Dedicated Server option.
All Dedicated Servers 15% Off
when you buy our 24 Month Plans.
Use Coupon Code
50CN10
to save 10% on orders $50 and over
Preconfigured Linux Dedicated Hosting Plans
Why our dedicated servers are right for you
Our cheap dedicated server plans feature lightning-fast processors, up to 16 GB of RAM, 20 TB of bandwidth, and Intel Core i3/i5/i7 processors, all backed by the best service and support in the industry, available LIVE 24/7. With our team of experts, you don't have to worry about setup — we'll get your server up and running fast! Choose the plan that's right for you, then customize it to meet your unique needs with even more bandwidth, control panel options, backup plans, firewall protection and more.
Admin access: Install and run virtually anything on the server.
Manage multiple Web sites: Host multiple Web sites on one account.
Versatility: A dedicated server can be used for a wide variety of purposes, including gaming, virtual (i.e., shared) hosting, and hosting of traffic-intensive Web sites.
At Domains at Retail, you are able to customize any of the following options depending on Server selection.
FTP Backup or Managed Backup Services
Bandwidth: Upgrade from 1 TB to 10 TB / month
Control Panel selection from Parallels Plesk or cPanel
MS SQL Database option
External Firewall
RAID 1 (Disk Mirroring)
If the source of the technical problem you are experiencing lies within systems or technology under our exclusive management, no charge will apply.
Examples of supported technical problems:
Your server becomes unreachable due to a network failure within our facility.
The hosting service setup process failed to complete successfully.
A root user password change request failed to resolve successfully.
If you need custom work, such as Advanced scripting, programming or troubleshooting, you need our Assisted Service Plan.
Simple Control Panel Unlimited
Plesk Control Panel 30 Domains
Plesk Control Panel 100 Domains
Plesk Control Panel Unlimited
cPanel Unlimited
Bandwidth Overage Protection
Free rapid setup
FREE! Google® Adwords® Credit*
FREE! Microsoft® adCenter Credit†
24x7 FTP access
Linux: CentOS (4 or 5) or Red Hat Fedora Core 7
3 Dedicated IPs
Our world-class data centers
Best-of-breed routers and servers
TippingPoint™ Intrusion Prevention Systems
24x7 email, telephone and Web-based tech support
24x7 physical security
24x7 network monitoring