Many questions come up to us about finding our Web Hosting Addons.
Domains at Retail has now went through a renovation of the Web Hosting page. What's new?
The answer to the question, "show me a list of the best Open Source Web Hosting Applications that I can install on your web hosting with a couple of clicks".
Visit our Web Hosting page, scroll down past the listing of Web Hosting Plans, and you will find the new Add On Applications Dashboard. This shows you the best Applications out there, and that it is included in our list of Value Added Applications and comes with Easy Install.
Take a look for yourself: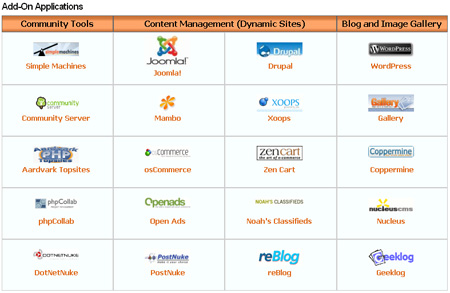 Click for larger View
All the Web Apps listed right in front of you.
What can you do with the Dashboard?
Click on any of the Web Applications and you will be redirected to the Application web page to learn more. We have done one better to provide you a preview of what value each application can add to your Web Hosting purchase from Domains at Retail.
Simply Hover over the Web Application in the Addons Dashboard, and you get a description of the benefits of the application. Easy information lets you make the right choices of what applications you need and can add so simply to your Domains at Retail web hosting plan.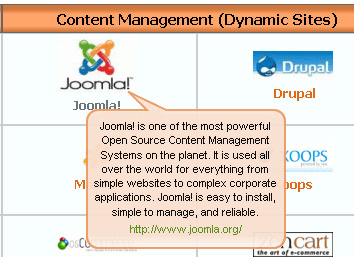 Take a look around, see what you need and add it to your hosting plans. Don't have your web sites hosted with us? Take a look at our Web Hosting plans to see why we are the right choice to host your web site.