Domains are becoming ever more important as years go by – with fewer good domains available to register you want to snatch up the right name now! Let's discuss what we have seen so far in 2014 and what's coming in the world of cheap domain name registration.
Trends we're seeing
Still the most in demand name and the one everyone initally looks for. Only when it is taken and someone absolutely wants it they will go with the next most popular TLD. Usually, that is also if the main domain is just being parked. If an actual business is already using the .com name, many are choosing to forget it to avoid branding issues.
While this requires you to brand the ".net" part in your advertising so people know to look for it, this extension still holds value and ranks well in search engines. If you primary target is to rank and get traffic via Google Search, this still seems to be a good backup plan, if someone is holding onto the .com
One of the popular country based domains is the .ca domain name for Canadians. We are seeing a lot of people choosing to use that extension if they operate solely in Canada with branding going the way of including the ".ca" in the logo and highlighting it a Canadian red color for branding and pride.
Expired Domains in Huge Demand
A new trend in the SEO world is grabbing expired domains and leveraging their existing ranks to help build out their site value in terms of search engines. The major player for listing these domains is ExpiredDomains.net, which gives you auction closing domains, as well as recently expired domains. You can filter via many options such as number of backlinks, Page Rank of the domain and also filter out fake page rank domains.
While you still need to do research to not grab a domain that has been penalized via search engines, this is a popular method to get your sites having good backlink sources. Many people will purchase separate hosting accounts for every expired domain they use and if you end up picking up an expired domain, you could use our Economy Plan to host your site, or use a pricier web hosting plan like our Deluxe and Unlimited plans.
If you are looking for a good domain to start out a new site for your business we recommend you use these drop down settings: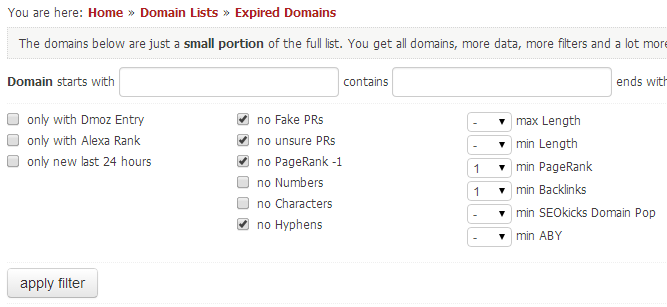 Good luck finding the right domain through the expired domains tool.
New Domain Extensions coming out
This year has been a big surge in getting new top level domains. You are no longer forced to just use the .com, .net, .org domains that are so commonly used. Google and others have jumped in and now you have the following options available as a TLD:
View our complete list of new gtlds in 2014!
Big things are happening in 2014 with domain name registration, so check back as we analyze again at the end of the year the trends for the year.