Looking for a Domain Name Registration Company?
Domains at Retail offers our customers a resource to help you choose the right products to make your web site endeavor successful.
You will find cheap domain registration, lowcost web hosting, secure ssl certificates , marketing options and more. We are here to ensure the right products are delivered to you for your web site.
Why Choose Us?
Technical Support & Sales
Billing & Hosting Support
Call: (480) 624-2500

Linux Hosting: PHP, Perl, Python
Windows Hosting: Microsoft.net 4.0, ASP, C#

Wordpress, Joomla, Drupal, Magento, WooCommerce and more

Selecting a cheap domain name registration provider for your business is critical, as it provides an outlet in picking your web domain. You want to brand yourself the same as your offline presence -- a catchy name that instantly identifies who you are. Sometimes you will find your first choices are already taken, but with a little creativity and our online suggestions you will be sure to find a winner.
Reasons to pick us over the competition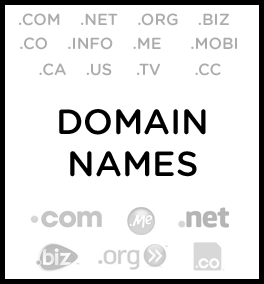 With online branding choosing a great name is what makes your site memorable and the foundation for a great site. You want something that is easy to spell for customers trying to find you, and it must fit your brand and style.
Customers now are more savvy then ever. Upon hearing of a business, they will almost always look for reviews and the company website. This is your chance to convert a potential customer by highlighting what you are about. Companies that already exist with physical locations will need to register a domain name that closely matches their existing name -- so users feel at ease knowing they have found the right site. Those starting out purely with an online presence will have much more freedom in their selection of a web domain. Your limits are your imagination and what you believe will catch the attention of your target audience.
Looking for the cheapest domain name registration option is easy with us! We offer all the most popular extensions, including .com, .net, .ca, in addition to many others.
The .com domain name is easily the most recognized known by any casual internet user. The first instinct is always to try .com at the end to find a site. Only sites branded otherwise will let a user know not to try that out. Of course, at times it will not be available and this is where we allow a diverse range of Top Level Domain Extensions.
For those in Canada, you may want to register a domain name, but want to show that you are proudly operating from Canada. This is where you would use a .ca extension. This let's users know instantly who you are targetting. The same can be said for the United States, where a popular extension can be .US, signifying you are operating in that location.
Domains at Retail offers a full range of Internet Web Site Service products including the ability for you to register your domain name, purchase web hosting to host your files, build your web site with Website Tonight and promote your site with tools like Traffic Blazer and Express Email Marketing.
Our 24x7 support, Low Cost hosting and Cheap Domain Name Registration prices are the reason Domains at Retail leads the competition in value for the dollar!
We don't believe in just registering your domain and making you pay for extra features. We include a number of features for free when you buy a domain name!
We provide you with a one page website builder to quickly get a site up for your visitors to see, while you work on developing your full featured web site. Upon registration, you will notice you can forward and mask any other domains so if the user types that in, they will be auto redirected to your actual site -- no stress or technical loops to jump through. We also provide locking to prevent accidental transfers, and status alerts that let you know if anything has been changed.
Through our Online Management Interface, we provide you with Total DNS Control for your domain name -- set DNS records for your email (MX), your A records, and DNS entries for subdomains anytime you want. And one of our best features is our auto renew protection - select to auto renew domains before they expire! No need to be there and renew it manually -- just ensure you keep your payment method on file, and we will renew it automatically so you don't miss out and lose it to someone looking to catch up ones that have expired!