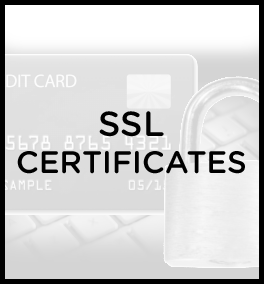 Today we will discuss the topic of "How to Set up Hosting with an SSL Certificate" for a web site.
First, you need to be familiar with SSL Certificates. Read up in our SSL Certificates Help section, to see why SSL Certificates are so powerful in protecting your customers Data. Here are some useful links:
Now you have read about SSL Certificates, and want to learn how to set up an SSL Certificate.
Firstly, what is an SSL Certificate?
An SSL certificate is a digital certificate that authenticates the identity of a Web site and encrypts information that is sent to the server using Secure Sockets Layer (SSL) technology. SSL certificates—built around stringent, industry-leading authentication measures—allow Web site owners to secure all online transactions with up to 256-bit encryption. An SSL certificate on a Web site ensures that sensitive data is safe from prying eyes.
What are the types of SSL Certificates?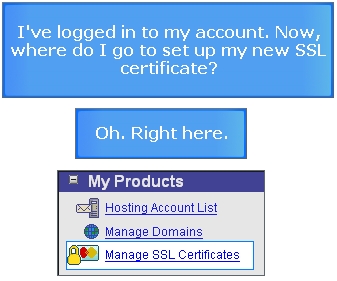 So how do I set up a SSL Certificate for my Web Site?
Quite easily with Domains at Retail's SSL Certificates. An easy to follow video has been put together illustrating from start to finish of "How to Set up Hosting with an SSL Certificate".
Note: To play Actioncasts you must download and install Macromedia Flash Player from Macromedia.
Now that you are back from seeing the Instructional video, you want to set up the SSL Certificate on your own site. First you will need to purchase the correct SSL Certificate, a Domain Name and Web Hosting that you are setting up the SSL Certificate on, and you are off to the races. Follow our set up guides linked to above, and if any questions arise our 24×7 support will be there to help you.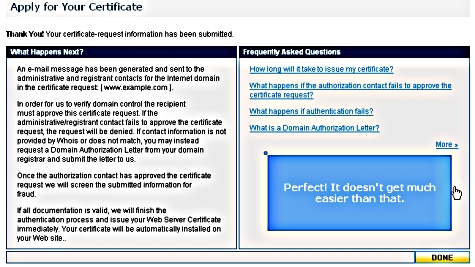 Hope you enjoyed the tutorial on "How to Set up Hosting with an SSL Certificate". Cheers.