Today we will discuss the topic of "How to create a Forum" for a web site.
First, you need to be familiar with our tool of choice: Web Site Tonight.

Read up, see why Web Site Tonight is so powerful. How about some useful links. Here they are:
Now you have read about Web Site Tonight, how easy it is to set up, and want to learn how does Web Site Tonight help with my quest on How to Create a Forum.
Firstly, what is a forum?
A forum is an online meeting place for open discussion of various topics. Forums are often referred to as a bulletin board or discussion area. With WebSite Tonight, you can add a forum to your Web site.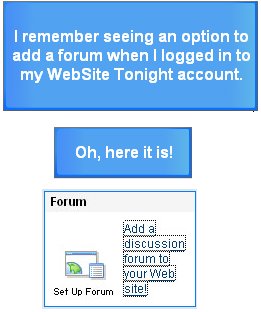 So how do I create my forum?
Quite easily with Web Site Tonight. An easy to follow video has been put together illustrating from start to finish of "How to Create a Forum".
Note: To play Actioncasts you must download and install Macromedia Flash Player from Macromedia.
Now that you are back from seeing the Instructional video, you want to create your own Forum. First you will need Web Site Tonight and a Domain Name and you are off to the races. Follow our set up guides linked to above, and if any questions arise our 24×7 support will be there to help you.

What else can you do with your Forum after it is set up?
Hope you enjoyed the tutorial on "How to Create a Forum". Cheers.