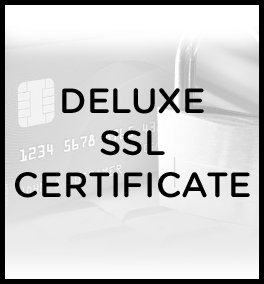 Deluxe SSL Web Certificate
Your visitors, prospects and customers are on their guard. These savvy Internet users are wary of Web sites and online businesses that aren't what they claim to be, and worried that their personal and financial information might fall into the wrong hands.
That's why a secure certificate has been essential to conducting your online business. But the cost! With only a few secure certificates providers on the market, they were able to command two, three, even four hundred of dollars per year.
Now there's an alternative, engineered and priced the Domains at Retail way: High-Assurance Deluxe SSL Certificates.
Remember: Stop paying too much. Get an affordable Domains at Retail Deluxe SSL Certificate now!
Save 33%
when you purchase
3 or more years!
Use Coupon Code
5NC25
to save 5% on orders $25 and over
Deluxe SSL
Domain and company validated
Supports Intel vPro® technology
24/7 live support
SSL Installation Tool
Site seal options
Highest level of online assurance verifies your domain control and identity, secures your site and can be issued in 2-4 hours!
Full-Company (or Individual) Validation
Can be issued within 2-4 hours
Up to 256-bit encryption
Warranty
99% browser recognition
Validation
Site Seal
Formerly the High-Assurance Secure Certificates, this certificate is ideal for anyone that needs one that can support Intel vPro technology for remote PC management.
Why pay more? Secure your site and boost response and customer confidence – with a High-Assurance SSL Certificate from Domains at Retail!
With our SSL certificates, you will find that 1 certificate protects both www.starfieldtech.com AND starfieldtech.com
Protect transactions and customer data with a SSL Certificate.
Pay up to 90% LESS and get your certificate FAST!
Protects against session hijacking attacks, including Firesheep.
Secure UNLIMITED servers. Compare that to other Certification Authorities that charge for licensing on each server.
No Technical Difference between our certificates and any other major Certification Authority.
99.9% browser recognition and up to 256-bit encryption.
Get Industry-best 24/7 service and support!
Improve security with our client-side authentication.
Securely manage remote PCs that use the Intel vPro® network with our Deluxe high-assurance SSL certificate.