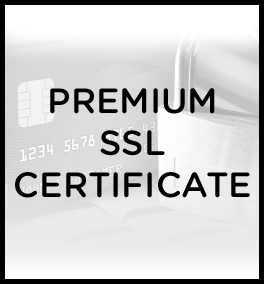 Premium SSL Web Certificate
Extended Validation SSL Certificates provide the highest level of online assurance for your customers using a process that's standardized across all certification authorities:
More extensive than any existing SSL vetting process (undertaken by any certification authority).
Includes verification of your organization's identity, the validity of your request and the overall legitimacy of your business.
Browsers also display both the organization name and issuing certification authority.
Using the same rock-solid, 256-bit encryption technology as our Standard and Deluxe SSL Certificates, Extended Validation SSL Certificates prove that your Web site is a secure place for customers to conduct business.
Remember: Stop paying too much. Get an affordable Domains at Retail Premium SSL Certificate now!
Use Coupon Code
5NC25
to save 5% on orders $25 and over
Top of the Line Certificate
Premium SSL
Domain and company validated
Trusted green browser bar
Free 1 year Standard SSL
Free DNSSEC to Secure Your DNS
24/7 live support
SSL Installation Tool
Site seal options
Secure your site with the highest level of online assurance for your customers.
Extended Validation for Businesses
New Green Address Bar

Can be issued within 2-4 hours
Up to 256-bit encryption
Warranty
99% browser recognition
Site Seal
Formerly the Extended Validation SSL Certificates, this certificate provides the most warranty on any of our SSL certificates. Our SSL Certificate is recognized by all browsers, provides up to 256-bit encryption and comes with a fast SSL Certificate setup. Our 24/7 live support is available by our expert staff members should you encounter any issues.
With our SSL certificates, you will find that 1 certificate protects both www.starfieldtech.com AND starfieldtech.com
Protect transactions and customer data with a SSL Certificate.
Pay up to 90% LESS and get your certificate FAST!
Protects against session hijacking attacks, including Firesheep.
Secure UNLIMITED servers. Compare that to other Certification Authorities that charge for licensing on each server.
No Technical Difference between our certificates and any other major Certification Authority.
99.9% browser recognition and up to 256-bit encryption.
Get Industry-best 24/7 service and support!
Improve security with our client-side authentication.