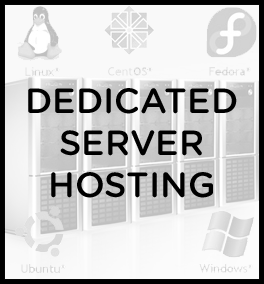 Managed Dedicated Server Hosting
Save the time and energy it takes to setup, monitor and maintain your dedicated server by letting our expert staff do it for you! With Domains at Retail® Assisted Service Plan, our team of server professionals will personally set up your dedicated server to deliver maximum performance. Plus, they will also handle select monitoring and maintenance issues that would otherwise drain your time and resources.
Remember: We have a Dedicated team of experts to fully manage your server, and we also offer dedicated servers you manage yourself.
Purchase a Managed Dedicated Server
All Dedicated Servers 15% Off
when you buy our 24 Month Plans.
Use Coupon Code
50CN10
to save 10% on orders $50 and over
Managed Dedicated Hosting
Each Assisted Service Plan Includes*:
Initial Server Setup:
Including installation of operating system and Parallels Plesk Panel.
Setup for the following services:

Domain Name & DNS
Hosting Account
Resource Allocation
Security Services (Anti-Virus, Scanning):
Monthly scans, as well as real-time on-access virus scanning of files (Windows servers only).
We scan your server once a month, to provide you with any recommended remediation actions.
Emergency Services:
Direct access to advanced support for emergencies including:

Service restart or reboot
Server or service down
Tier-3 Support troubleshooting
Patching Services:
Patching services** for the base operating system, such as Fedora or Windows, which includes:

Official updates released by the Fedora or Fedora Legacy Project.
Official updates, bug fixes and security patches released by Microsoft.
Monitoring Services:
Per server monitoring of basic services such as Ping and HTTP.
Custom Support Access:
Access to our flat-rate custom support services
* Administrative Access is unavailable with the Assisted Service Plan
** In most cases, patching will be performed weekly, though some patches may be applied sooner if the severity and likelihood of exploit is high. If a patch is found to break a customer's application, the customer will be able to contact the managed services support center and request that the patch be rolled back, free of charge.
Note: Assisted Service Plan is not available for plans using the Fedora or Ubuntu operating system.
Dedicated Server Plans
Need help administering your server? Make the most of your Virtual Private Server by letting our expert staff help you with your specific needs. Call (480) 624-2500 for a quote.
Expert Hands services include:
FREE diagnosis
Install 3rd-party Web-based software or add-on module to a control panel
Database assistance, such as data import/export
Optimization of MySQL® Databases and Apache® webservice
Port changes such as ssh, rdc and remote database access
Dedicated and VPS password resets
Dedicated and VPS backup/restore (only with FTP back-up add-on)
Installation of 3rd-party SSL Certificates
Migration of content to customer's server or Web hosting account
PHP/ASP Modules (per module)
Configuration of game servers
Expert Hands services will not perform the following tasks:
Script troubleshooting
Kernel modifications
Advanced scripting/web programming
OS Hardening
Updates to IP tables and firewalls