Domains at Retail is proud to join Round up for Charity and support charities by rounding up your domain name, web hosting and other product purchases to the nearest dollar. The amount rounded up will be donated to the charity you selected.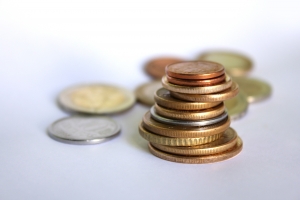 We have selected three charities for you to pick from when joining in on the Round up for Charity:
Hope for Haiti has improved the lives of hundreds of thousands of Haitian children and their families for more than 20 years. When you donate, 96% of every dollar goes directly to the Haitian people.
Juvenile Diabetes Research Foundation is a leader in setting the agenda for diabetes research worldwide. The largest charitable funder of type-1 diabetes research, this foundation has donated more than $1.5 billion since 1970. Its mission is to find a cure for diabetes and its complications.
Arizona Humane Society (AHS) is the state's leading animal welfare agency. AHS operates the largest shelter-based trauma center in the southwest and runs the only animal rescue and cruelty investigation program. As a non-profit organization, It relies solely on donations to safeguard, rescue, shelter, heal, and advocate for more than 44,000 animals annually.
I am proud to give the JDRF foundation as an option, as I have been a diabetic for over 15 years now
Round up for Charity Process
Here is how the process works on our site after you have added your products into the shopping cart. This example shows adding 3 years of web hosting as an example:
Step 1: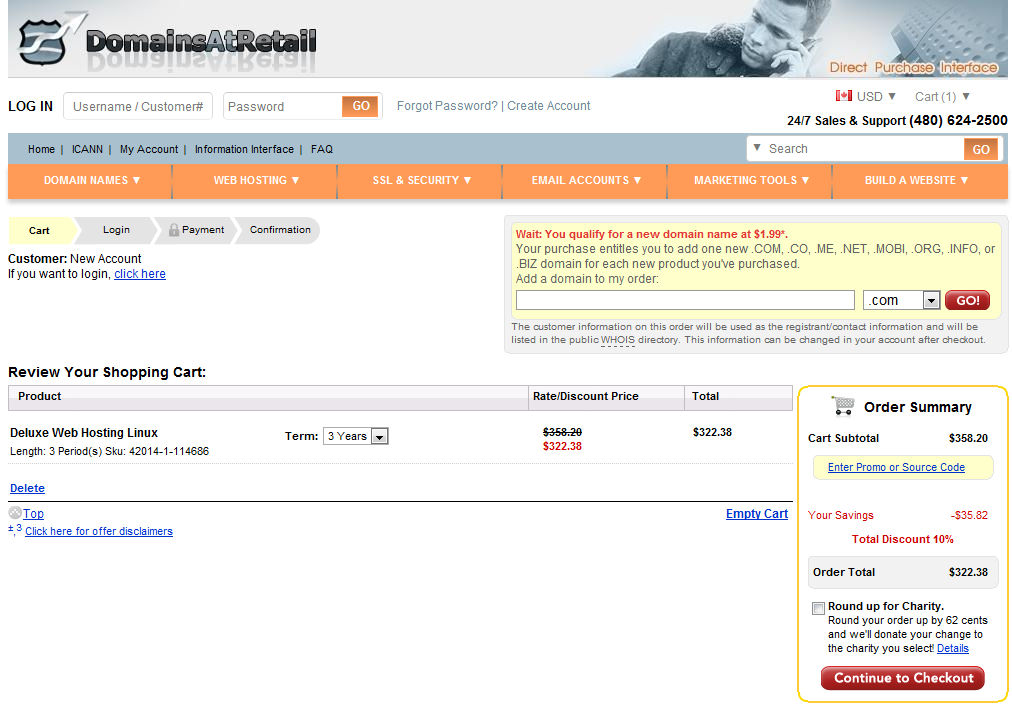 Click for larger image
In this option you will click the checkbox for "Round Up For Charity" in the bottom right of the cart.
Step 2: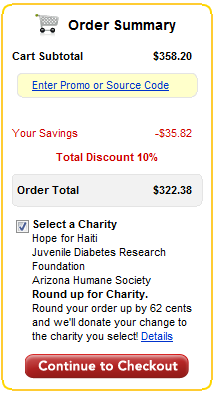 Click one of the 3 options:
Hope for Haiti
Juvenile Diabetes Research Foundation
Arizona Humane Society
You will now see that the amount rounded to the nearest dollar has been added into your cart with a message in the bottom right indicating your selection as well.
Domains at Retail thanks you for helping out! – a few cents at a time.