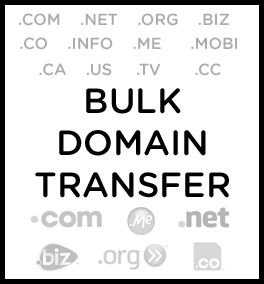 Cheap Bulk Domain Name Transfers
Bulk Domain Name Transfers allow you to save on current domain name renewal costs!
Our Rapid Transfer System allows us to complete most transfers within 5-7 days. If the transfer fails for any reason, we will contact you and refund your money.
Click Here to to Transfer your Domains in Bulk
Remember: Our Rapid Transfer System™ makes it easy. A Transfer Concierge is always just a phone call away.
DOMAINS FOR JUST
$1.99*
WITH A NEW, NON-DOMAIN PURCHASE
Why buy more than one?
Bulk pricing will be applied based upon the total number of domains in your list -- no matter which domain extensions are selected.
Example: if you had 49 .com domains and 3 .net domains, the entire order would qualify under bulk pricing for 50-100 domains.
3 Steps
Enter the domain you'd like to transfer
After purchase, check your email to authorize
Receive email confirmation of successful transfer
Why transfer to Domains at Retail?
Big savings over the competition.
A long list of FREE extras - website & more.
24/7 service that's second-to-none.
Call Transfer Concierge® anytime at 1-480-505-8866