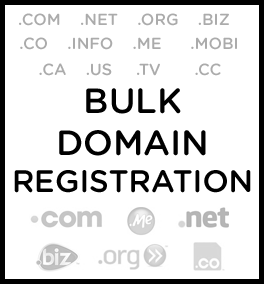 Cheap Bulk Domain Name Registration
Our convenient bulk domain name registration process provides savings to the customer.
With this process you may register variations of your domain name to increase traffic, and purchase multiple top level domain name extensions of your company domain to protect your brand identity!
Click Here to to start a Bulk Domain Search
Remember: Domains with bulk pricing do not qualify for additional promotional discounts.
DOMAINS FOR JUST
$1.99*
WITH A NEW, NON-DOMAIN PURCHASE
Why buy more than one?
Bulk pricing will be applied based upon the total number of domains in your list -- no matter which domain extensions are selected.
Example: if you had 49 .com domains and 3 .net domains, the entire order would qualify under bulk pricing for 50-100 domains.