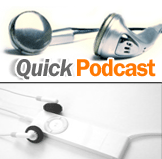 The craze of podcasting (or audioblogging as some call it) has had a huge following. Rather than simply read what the owners of blogs are writing, the option is available to listen to the voice behind the computer.
With the invention of the iPod and many other devices, podcasting is something that can become portable. Users can download the Podcast and listen to it on their hand held device while on the Train or Bus to work, school or wherever they may be going. This flexibility has caused a surge in customers wanting web sites to have their own Podcast.
Are you satisfying the need of so many users and potential customers who might be looking for such features? Are they leaving when you don't have it?
You might say it's too hard to learn and you don't know the requirement to start up your own Podcast. Don't alienate potential customers. We make it easy for you to start your own podcast with our Quick Podcast product.
Take a look at the features:
Podcast Recording Tool – Our recording tool offers one-click install capabilities, real-time audio compression, and CD-quality recording (prior to MP3 compression).
On-Site Player – Play podcasts directly from your published web page.
Multiple Podcasts – It's a snap to create and manage multiple RSS files and mini-Web sites.
Multiple templates and themes – Stand out from the crowd with a look that says "YOU."
You can even set up Quick Podcast with iTunes. If you select to upload directories automatically, Quick Podcast automatically uploads your new episodes.
Note: To upload to podcast directories, you may need to set up an account with the directory first.
As a Podcaster, you can take comfort in the fact that you are connecting with your clients in the modern world with your Podcast.
So what are you waiting for?
Keep your customers visiting your web site over and over again.
Click to go the Quick Podcast section, or go directly and Purchase a Quick Podcast.