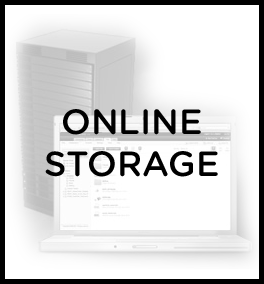 Online Storage
Online File Folder is a browser-based application that allows you to store and access your important files, safely and securely – online. Much like a folder on your hard drive, the Online File Folder allows you to back up your files and stores them in a safe place for you. You'll have access to your files 24/7, you can share your files with others, and you can even encrypt your files for an extra level of protection.
Remember: Store your files so you can get them anywhere when you are on the go!
Product has been Discontinued
Online Folder File Features
Easy to use. - Access, share, and manage files and folders quickly and easily.
Backup, retrieve, and share your files anytime, from any computer that has an Internet connection.
Upload and download files to/from your Online File Folder account via FTP. It's as easy as sending files to ftp.onlinefilefolder.com and logging in.
Editing Tool lets you edit your files from Online File Folder. Save the edited file and the changes are automatically saved in your Online File Folder.
Download and save multiple files at once.
Access online files right from your desktop. With new WebDAV support, including Microsoft®'s Web Folders technology, you can view or edit your online files and folders as easily as if they were located on a local network drive.
Transfer files in a snap with our new Drag 'n Drop feature! Organizing your files has never been easier.
Bypass ISP restrictions on email attachment size. Just email a link to the file you want to share — no more bounced emails or clogged inboxes.
Compress and expand even the largest files with a simple click to get the most of your storage space.
Affordable. Just pennies a day give you a user-friendly interface, ample storage space and instant access to your files.
Powerful encryption keeps your personal files safe and secure, protecting them against hackers and other online threats.
Save up to 90%* over the other online backup and storage services.
Online Storage. Access important files from any online computer.
Secure Backup. Enjoy the peace of mind knowing your files are safe.
Unlimited Sharing°. No limits to how many times you share a file or how many files you share!
Expert 24/7 support. If you've got a question, we're here to help.