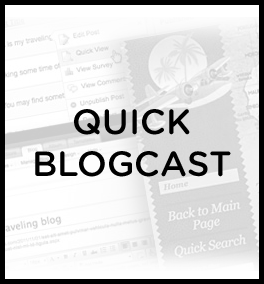 Quick Blogcast
Get your voice on the Internet! Blogging lets you post your thoughts and photos on the 'Net and interact with your web site's visitors. Whether you're writing your own personal journal or looking to influence audiences, Quick Blogcast® is the must-have blogging tool for you.
Remember: Publish your thoughts, opinions, comments, and videos in your own blog, podcast-or both-anytime, day or night!
Purchase Quick Blogcast
Blogging and Podcasting
Create
Give your Blogcast one-of-a-kind style with nearly 100 customizable templates.
Play audio and video podcasts directly from your published web page with On-Site Player.
No banner advertisements.
Manage
Log in and manage Quick Blogcast, Quick Shopping Cart®, and Website Builder all from one common dashboard.
Updated Statistics Tool gives you access to statistics and reports for various blog features, including how visitors are getting to your blog, how frequently they're visiting, what they're viewing, and on what entries they're commenting.
Overage Protection means you never have to worry about exceeding bandwidth or unexpected monthly overage charges.
Share your favorite photos, videos, and more. Upload and manage .jpg, .gif, MP3 and MP4 audio/video files (m4v, mp4 and mov) simply and easily. (Available disk space varies from plan to plan.)
NEW! Tag your blog posts, and give your readers an easy way to see which subjects you blog about the most with the Tag Clouding widget. (Deluxe and Premium plans only)
Manage your comment SPAM protection by choosing to retain all comments marked as SPAM or having them auto-deleted.
Remote blogging lets you post directly from online photo albums (like Photo Album) and popular third-party sources. You can even blog via email or post direct to your blog from Word 2007, Windows Live Writer, Flickr and others.
If you've got a Google AdSense® account, use Quick Blogcast to earn revenue. Get site statistics, including subscriber numbers, average bandwidth, disk space utilization and more.
IP banning locks out spammers and other troublesome visitors.
Improvements to the CSS Editor make it faster and easier than ever to update the look and feel of your blogcast!
Publish
Share your Blogcast across the Web-generate and publish RSS feeds in minutes.
Keep your visitors informed of your latest posts with Blogcast update notification service.
Quick Blogcast automatically sends new podcast notifications to popular listing services like iTunes®, FeedBurner®, iPodder, and more.
Use built-in surveys to get feedback from all your visitors.
Already have a blog? No problem! Quick Blogcast's import tool lets you transfer all your current blog articles, comments and trackbacks into your Quick Blogcast ...quickly and easily!
A web log (or "blog") is similar to an online journal. It is largely text-based, so it's easy to update and maintain-even if you have no experience running a Web site. Any type of information can be presented on a blog, from stories about a family vacation to in-depth commentary on world politics. In addition, most blogs allow visitors to post responses to blog articles or entries and leave feedback for the person running the site, known as a "blogger". Overall, a blog is a fast, easy and fun way to establish an online presence.
A podcast is a way to broadcast multimedia files - audio or video-over the Internet for playback on mobile devices (ex. MP3 players) and personal computers. Podcasting lets the podcaster create a broadcast about a subject of interest to him/her and their subscribers. Subscribers simply download the podcast and listen to it at their convenience.