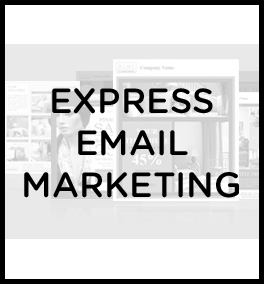 Express Email Marketing
Express Email Marketing is an online marketing solution that helps you connect with your customers, members and contacts through permission-based email marketing. Express Email Marketing helps you build and maintain a 100% permission-based subscriber list, nurture customer relationships, and grow your business through the scheduled delivery of email newsletters, announcements, promotions, and other targeted email campaigns.
Remember: Subscriber Lists are key to getting out your company's message to interested customers.
Use Coupon Code
5NC25
to save 5% on orders $25 and over
Economy
Up to 500 subscribers
Unlimited emails
Over 160 ready-made designs
Social Marketing
Survey Builder
Deluxe
Up to 2,500 subscribers
Unlimited emails
Over 160 ready-made designs
Social Marketing
Survey Builder
Premium
Up to 10,000 subscribers
Unlimited emails
Over 160 ready-made designs
Social Marketing
Survey Builder
Why our Email Marketing Service?
Send, post, tweet, share and more.
With Express Email Marketing, you're a master of communication. Design and send an eye-catching email. Post your latest sale on Facebook. Send a tweet about a new product. Reach out to new and current customers, no matter where they are.
Get subscribers
Gather email addresses, efficiently and legally, by adding our sign-up form to your website.
Add the sign-up link to your email signature, your Twitter or Facebook account – even the closing line on your eBay® or Craigslist® entries.
Send your email
Create great-looking emails. Choose from a truly stunning collection of over 160 ready-to-use designs.
Add text and photos from our image library or upload your own – they automatically resize to fit your email!
Track the results
Easily generate reports that tell you how many emails you sent, how many were opened, how many people responded to individual offers or promotions, and more.
Get social
Increase results by automatically announcing your email offers on the top social networks.
Maximize big announcements by updating all of your social media profiles at once.
Track the activity on your Facebook, Twitter, LinkedIn®, and MySpace® pages all from one screen.
Collect valuable feedback
Find out what your customers really want – create, send, and tabulate surveys with the survey tool.
Everything you need to market your business like a pro.
You don't need to be a design expert to create captivating emails. And you don't need to be on the Web 24/7 to be a social media wiz. All you need is a passion for your business and Express Email Marketing can do the rest with a rich collection of powerful features.
Email campaigns
Over 160 ready-made designs
Huge 20,000+ image library
Option to upload your own images
HTML & text emails
Auto Save feature
Easy Email Editor, with drag-and-drop functionality
Now-or-later scheduling
Ability to tailor emails to various interest groups
Social marketing
Broadcast to multiple social networks with one click
Review and respond to your social contacts with a real–time Social Feed
Get the most out of your updates by easily adding images
See the activity on all your social networks from one screen
Survey builder
Write, send, and tabulate customer satisfaction surveys
9 unique question types
Custom design features
Link generator (text & button)
List manager
Keep names, addresses, and campaign history at your fingertips
Unlimited list segmentation to send targeted offers to different audiences
View reports on subscriber responses
Easy import/export feature
Real-time reports
Undeliverable emails
Unsubscribe requests
Number opened
Click-through rates to your website
Sign-up forms
Easily add your sign-up form to any website
Standard & custom questions
Question sorting
Custom design features
Return links
Form preview
Link generator (text & button)
HTML code for link
Other features
Bounce handling
Unsubscribe handling
Opt-in confirmation
Anti-spam protection
Spam reporting links
Custom e-mail messages
Use email and social media marketing to get more business.
Business advertising has never been so easy! Regular emails and weekly posts to Facebook, Twitter, and other social media sites keep customers coming back again and again. What's more, they increase website visitors, help close sales, and reduce marketing costs over time.
Email gets the word out
Start making more money from current customers now. Just import your mailing list into our List Manager and go!
Tell customers about upcoming promotions, special offers, and new products and services.
Real-time reports show you how many people received, opened, and acted on your emails.
Social media multiplies your efforts
Show you care about customers by meeting them in their favorite online hangouts.
Communicate with thousands at once – when someone asks a question on Facebook or Twitter, everyone can see your answer.
Multiply your promotional efforts – each fan or follower shares your messages with their own personal network of friends.
Easy Email Editor
FREE! 20,000+ images to customize campaigns.
Easily add sign-up forms to any website
Real-time campaign statistics
Unlimited list segmentation to tailor your offers
Post campaigns on social networks
Send unlimited emails
Over 160 quick-start email designs
Huge 20,000+ image library
Automatic photo resizing
Ability to create both HTML & text emails
Easy Email Editor
Social media management tools
Sign-up form for your home page
Easy list import
Bounce & unsubscribe handling
Detailed reports
Survey builder
List Manager
Now-or-later scheduling