Express Email Marketing Service by Domains at Retail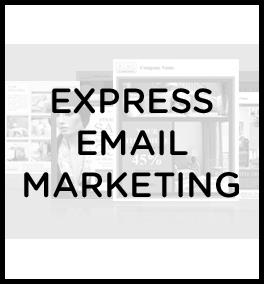 Express Email Marketing
Express Email Marketing is an online marketing solution that helps you connect with your customers, members and contacts through permission-based email marketing. Express Email Marketing helps you build and maintain a 100% permission-based subscriber list, nurture customer relationships, and grow your business through the scheduled delivery of email newsletters, announcements, promotions, and other targeted email campaigns.
Remember: Subscriber Lists are key to getting out your company's message to interested customers.
Express Email Marketing Overview

Express Email Marketing is an email marketing service that shows you how to be in-touch the right way. It also provides direct marketing tools to make sure that you comply 100% with all the new anti-spam laws.
Domains at Retail Sales:

Cheap domain name registration for $1.99* with each and every new, non-domain product you buy. No quantity limit! Some limitations apply.

Lowcost Web Hosting - php, asp, mysql
Economy, Deluxe and Premium plans available!
Express Email Marketing Tips:
Express Email Marketing includes everything you see here:

Subscriber Management
Surveys
Reports
Campaign Designer
Sign Up Forms
Email Marketing Solution
Top Products and Services:

Traffic Blazer
Prepare your sites so the Search Engines Find it!