Cheap Bulk Domain Name Transfers by Domains at Retail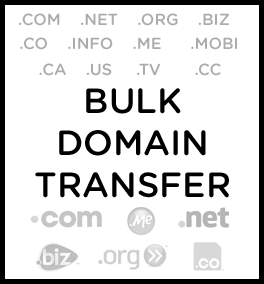 Bulk Domain Name Transfers

Bulk Domain Name Transfers allow you to save on current domain name renewal costs!
Our Rapid Transfer System allows us to complete most transfers within 5-7 days. If the transfer fails for any reason, we will contact you and refund your money.
Remember:
Our Rapid Transfer Systemô makes it easy.
A
Transfer Concierge
is always just a phone call away.
Note on Bulk Domain Name Registration
Bulk pricing will be applied based upon the total number of domains in your list -- no matter which domain extensions are selected.
Example: if you had 49 .com domains and 3 .net domains, the entire order would qualify under bulk pricing for 50-100 domains.

Domains at Retail Sales:

Cheap domain name registration for $1.99* with each and every new, non-domain product you buy. No quantity limit! Some limitations apply.

Lowcost Web Hosting - php, asp, mysql
Economy, Deluxe and Premium plans available!
Top Products and Services:

Traffic Blazer
Prepare your sites so the Search Engines Find it!

Web Site Tonight
Learn how to make your own Web Site online.